The new boat on our little car in matching colours!
So a few weeks ago now my fiance and I bought an open canoe. We've both been white water kayakers for a long time and had dabbled a bit in canadian style canoeing. We liked it a lot! So we bought a second-hand-brand-new boat (if that makes sense) off a nice man from Englandshire who was travelling up to civilisation and wanted rid of it.
Earlier this week we finally got the chance to try it out! That is, on water, not on the lawn which, yes, I did do when it arrived at the house. We went for something easy first - no sense in going too far too fast - so on Sunday we drove up to the Loch of the Lowes, a small loch off the top end of St. Mary's Loch near Peebles.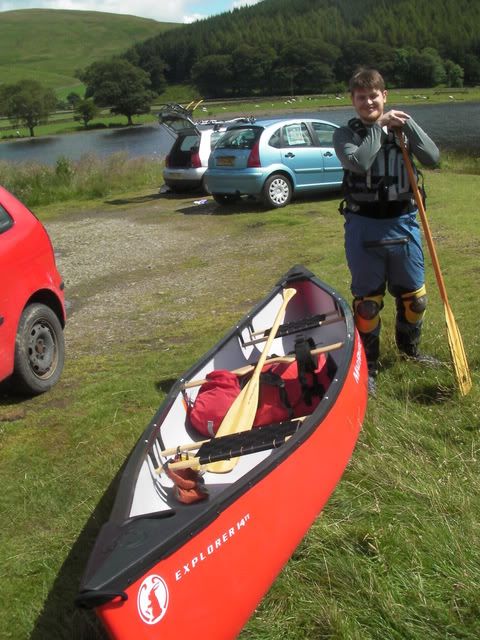 Davey kitted up and ready to go (I'm still faffing of course).
The weather was atrocious in the morning, hammering down rain periodically, so it took us a while to get loaded up and going! However, as we drove up out of Innerleithen it just got sunnier and sunnier. We arrived at the lochside car park and had lunch on the beach, then set off around the loch. There was very little wind but a few small waves wobbled us around at the end of the loch. Davey was utterly calm and unimpressed by my worried chattering, thankfully.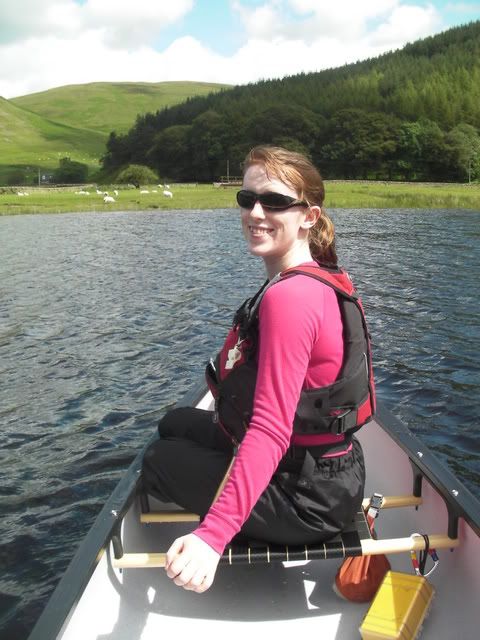 Paddling down the loch in the sunshine.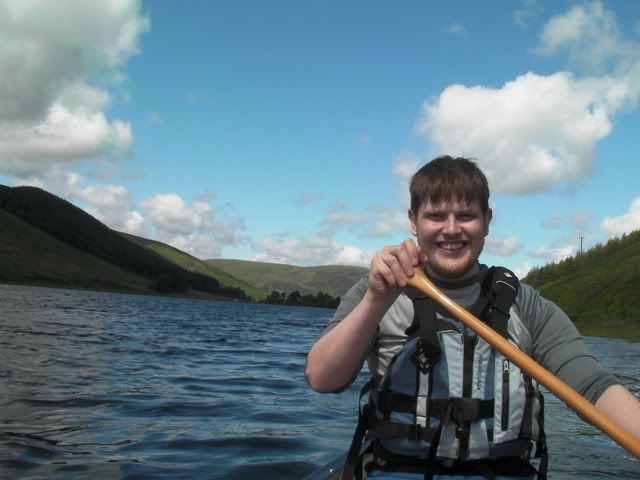 A view down towards St Mary's Loch.
Back at the car park I left the canoe in Davey's hands and went off to the cafe to find tea and chocolate cake! Davey took the canoe out for a solo paddle and was very pleased with it.
Davey sets off by himself.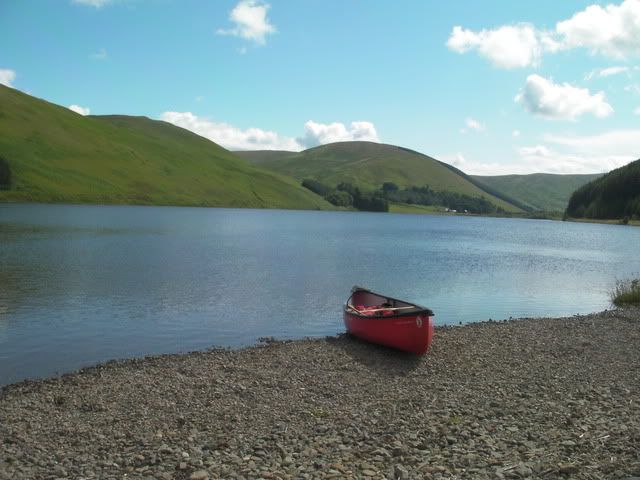 The beach at the car park after a nice afternoon's paddle.
The next day, after an even later start (although we didn't have as far to drive) we headed to the Clyde at the A702 road bridge near Abbington. There is a nice get in here, if a little wobbly over the rocks beside the river. The river was running reasonably high, but not scary, so we planned to get out at the Boat bridge near Thankerton, roughly 15-16 km down by the OS map. I had done a small section of this back in high school, but the rest was a mystery! We guessed that it was just grade 1-2 at most, thankfully we would be proved correct. We shuttled down with my dad giving me a quick lift back up to the top, many thanks go to him.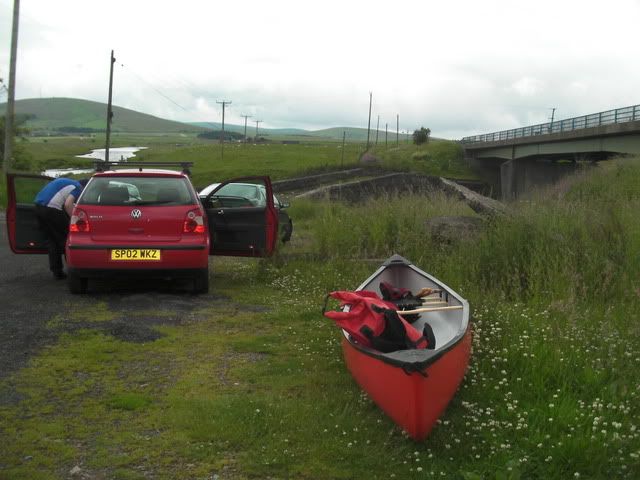 The put in on the old road that drops from the A702 to this little bridge.
We saw lots of wildlife on the way down - herons, ducks, swans, martens, noisy oystercatchers, gooseanders, grey wagtails, squabbling buzzards, lapwings, a goose and a lone redshank that scolded us for a good five minutes until we were well past its domain. We made good time down the river, despite not paddling a great deal (especially me) except on the artificially widened part where sand and gravel extraction has made a loch in the Clyde and the fast current that we had been riding until then disappeared entirely! Davey was most unimpressed by this. We finished at about 6pm, having started around about 3.30pm and made it home for tea.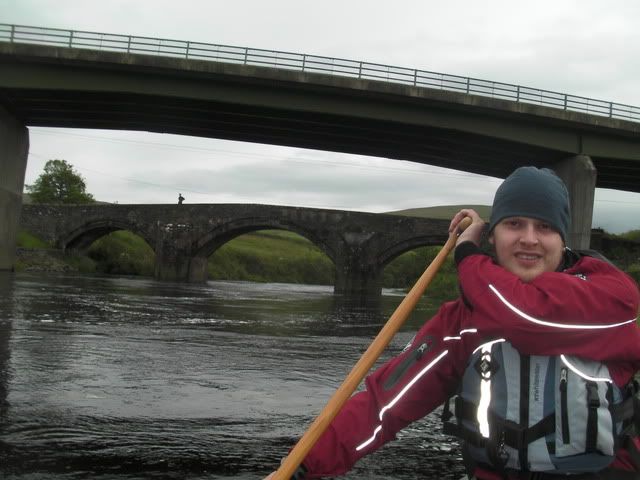 The put in bridge. Davey was not so pleased by the rain, but it soon cleared up.
The point at which the redshank started scolding us!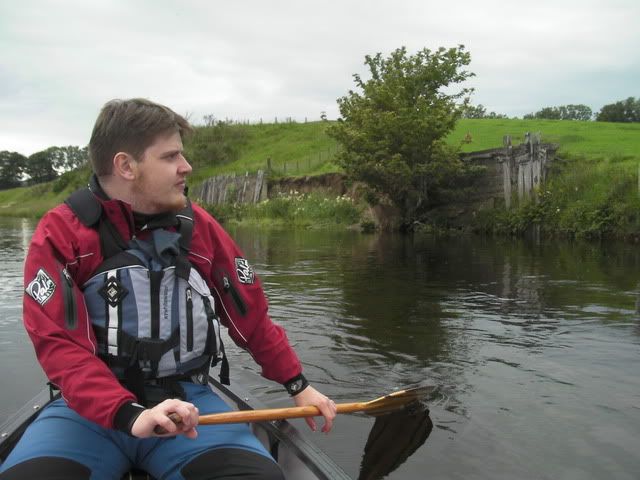 On the artificial loch.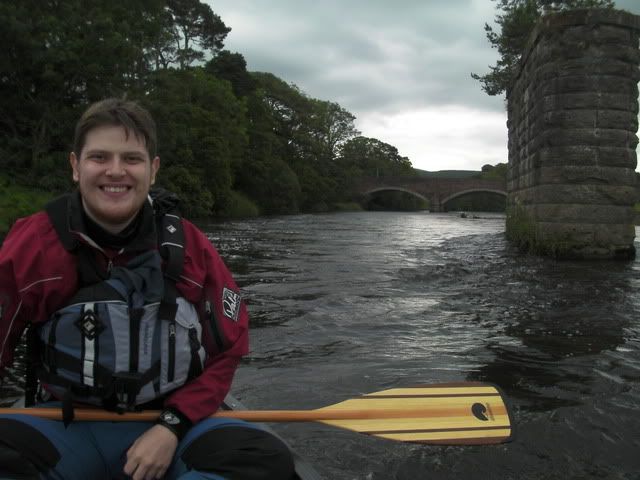 Wolfclyde road bridge and the remains of the rail bridge.
A quick stop in a swirly foamy eddy, nearly at the end!
The final day of paddling saw us doing part of a route we did in May with a group, though due to the stormy weather there was a lot more water. We put in on the River Tweed at Peebles beside the swimming pool and paddled to Peel, a small collection of houses just below where the Gala road splits from the road to Selkirk.
It was a nice day with only little bits of rain, then just as we drove away from the take out the rain came belting down - talk about lucky escapes! We started at 11.30am and reached Peel at 3.15pm with about 45 minutes for lunch, so you can guess how fast the river was flowing, considering our usual lack of paddling!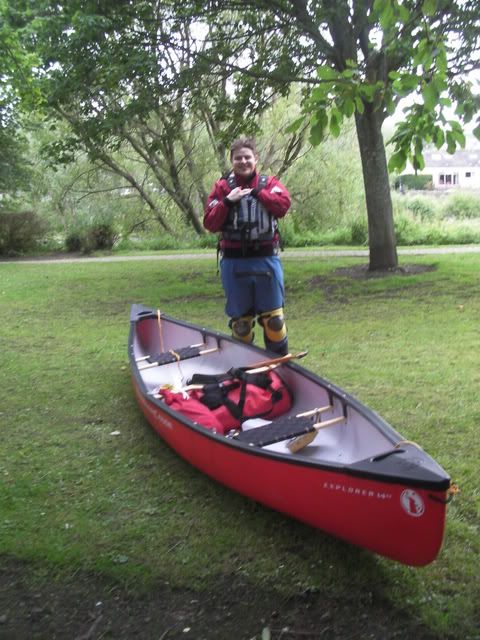 Ready to go in Peebles.
Cheese sandwich on the move just before we stopped for lunch proper.
Lunch stop at Innerleithen.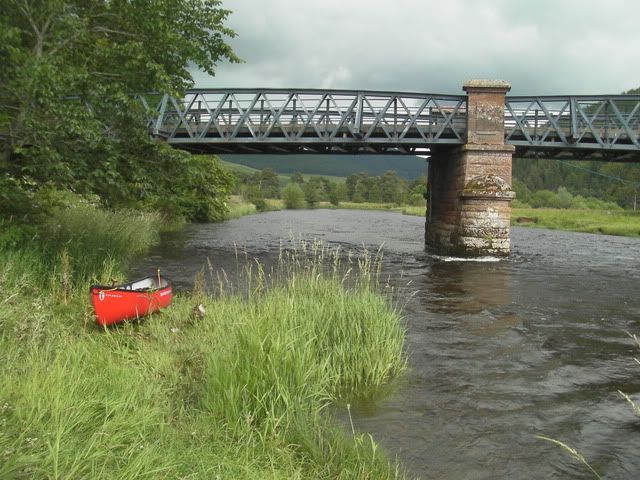 Innerleithen road bridge - approximately half way.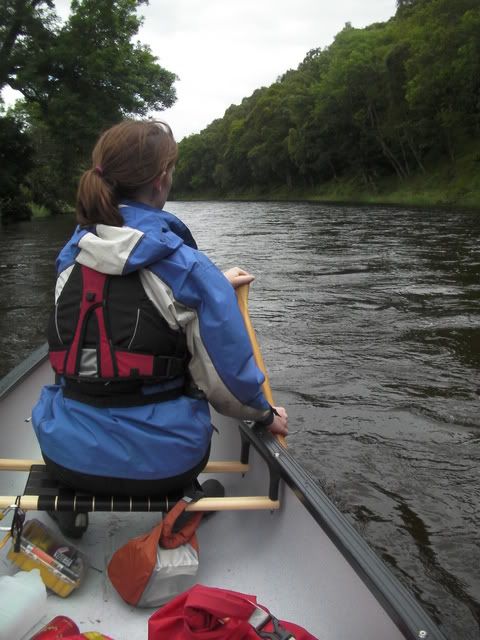 Davey finally succeeds in getting me to paddle a bit more near the end.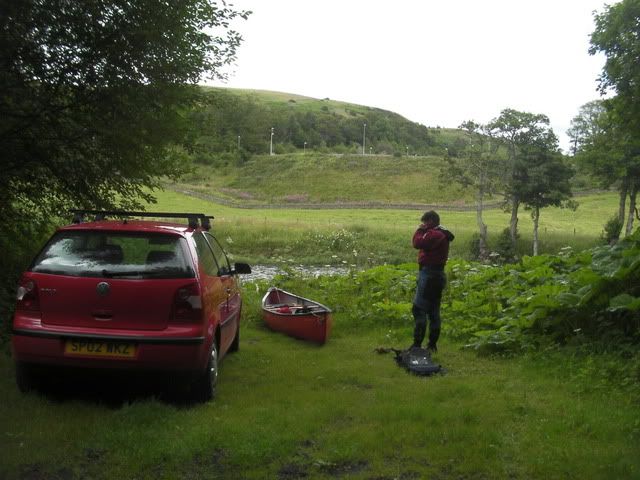 Peel take out, a small river side car park upstream of the bridge.
A fantastic three days, hopefully we can do it again soon!